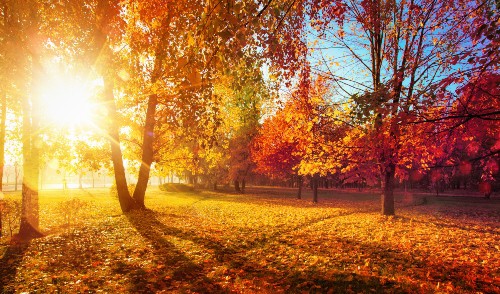 Mother Nature will roll out her magnificent red carpet of leaves, and you will enjoy all the colors of the foliage season in style in Rhode Island. There are wonderful scenic roadways to explore, bridle paths to trot, rivers to paddle, and fairways to hit as you immerse yourself in the wondrous colors of autumn in luxury fit for celebrities, bakers, and candlestick makers.
Rocky Point State Park: What was once an amusement park is now a beautiful park overlooking Narragansett Bay. Enjoy the fall foliage as you walk along the paved path by the water or explore the wooded areas on over 120 acres of land. There are original artifacts left over from the amusement park including the support towers for the gondola ride. The majority of structures have been removed due to safety concerns (and climbing on structures is not allowed). You will uncover some unique photo opportunities by capturing the rusting metal and fading paint from amusements of yesteryear along with the vibrant colors of the autumn leaves.
Goddard Memorial State Park: There are 18 miles of bridle trails traversing over 490 acres of land in what was once the estate of Robert Goddard (a Civil War officer and politician). Equestrians and walkers can both enjoy the bridle trails winding through the woods and opening to views of the bay. Walkers are well advised to watch their step on the horse paths while bathing in the canopy of colorful foliage, or their shoes will certainly need a bath! The park is also home to a 9- hole public golf course. The state-run course is an inexpensive way for players to take in the beauty of fall ($15 on weekdays and $20 on weekends).
Acadia Management Area: This is Rhode Island's largest recreational area. There are over 14,000 acres to explore through miles and miles of trails. Most of the area is forested. The gravel roads are maintained and marked. They are used by equestrians, mountain bikers, and hikers. The state would like to remind visitors to "act responsibly, show courtesy and share the road". Kayakers and canoeists can paddle their way along Wood's River while experiencing the heraldry of leaves.
Newport Cliff Walk: Gilded Age mansions and golden leaves are but for the eyes to behold while walking along the 3.5 mile Cliff Walk. This is free and open to the public. Your canine companions are more than welcome to join you when they are leashed and picked up after. Metered parking is available.
Scenic Roadways: Rhode Island has 8 designated scenic roadways. They range from 1.4 miles to 12.35 miles in length. Ministerial Road (Route 110) is one of these remarkable roads to travel in the fall. It is a highly recommended route to witness the colors of the season as it passes by the Great Swamp Wildlife Reservation, Worden Pond, and Larkin Pond along with remnants of stone walls from the farms of a bygone era.
The team at Teri Degnan Real Estate & Consulting looks forward to helping you find the perfect home in Newport and the surrounding areas of Rhode Island. We will make your home buying experience fun, exciting, and simple (Mother Nature will be taking care of the vibrant fall foliage and natural wonders). Contact us today!